INTRODUCING
Janus
Short Duration Income

ETF

In an environment where fixed income is neither "fixed" nor providing much "income," investors may want to rethink their approach to short-term investments and traditional fixed income. Our short-duration, absolute return approach may make sense for investors looking for returns above cash or to diversify their traditional core fixed income holdings, which may have become more sensitive to interest rate moves.
The Negative Real Return on Cash Warrants A Different Approach
Since the financial crisis, investors and institutions have flocked to cash and cash-like investments for their perceived safety. At the same time, the Fed Funds Rate has plummeted to essentially zero in an effort to spur lending and investment. For investors who have sat on the sidelines, hard-earned savings have been eroded by inflation.
Holding Cash Has Eroded Wealth for Investors Big and Small

Investors should consider looking for new ways to put their cash to work.
Janus Short Duration Income ETF (VNLA) seeks to provide a steady income stream with capital preservation across various market cycles. The Fund seeks to consistently outperform the LIBOR 3-month rate by a moderate amount through various market cycles while at the same time providing low volatility.
Why Invest in VNLA
Actively Maneuver Around Potential Risks in Short-Duration
Targets Investments that can Provide an Absolute Return 2% to 3% Above 3-Month USD LIBOR (a proxy for cash)
Potentially Lower Portfolio Volatility
A Team With Absolute Return Experience
VNLA's roots are in an almost decade-old absolute return strategy used by global institutions, which the Janus Global Macro Fixed Income team is pleased to offer to investors in an active exchange-traded fund (ETF) structure.
VNLA's Construction Targets Consistent Absolute Returns
An absolute return focus allows us to use a variety of strategies and securities to implement our views and help deliver our best ideas to clients. We believe our approach can provide positive absolute returns in a variety of market environments compared to traditional benchmark-oriented fixed income investments.
Janus' Global Macro Fixed Income strategies all take the same approach to portfolio construction. Guided by our secular outlook, we start with a yield-centric foundation of short-term investments, mostly global investment grade credit, believed to have lower risk, and layer on investments intended to generate alpha.
VNLA targets fixed income instruments that can provide an absolute return of 2% to 3% above cash (3-Month USD LIBOR). The majority of the return is expected to be generated from the yield foundation, with the rest from structural alpha strategies.
The Janus Global Macro Fixed Income Team's Investment Approach
Nimble and Flexible
Multiple levers and few constraints create the potential for steady income with low volatility regardless of market environment.

By

capitalizing on structural inefficiencies

in fixed income markets, we believe we will be

better positioned to outperform

through market cycles.
Nick Maroutsos, Portfolio Manager | Daniel Siluk, Portfolio Manager
The Risk/Reward Profile for VNLA Could Prove Powerful
VNLA's targeted absolute return, coupled with a focus on low volatility, may pay off when yield is hard to find and as an alternative to taking on additional risk.
VNLA's Return Potential May Be Attractive for Its Target Risk Level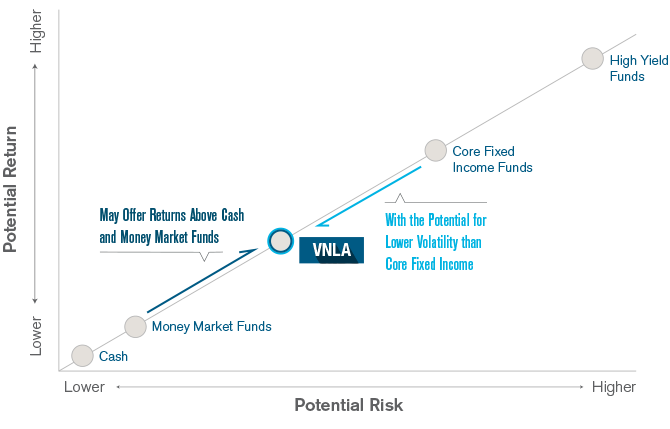 Differences between compared investments may include objectives, sales and management fees, liquidity, volatility, tax features and other features, which may result in differences in performance.
Role in a Diversified Portfolio — Two Ways to Implement VNLA
VNLA provides investors an opportunity to put their cash to work. With its flexibility and absolute return objective, the ETF may provide higher returns than cash allocations.
About Janus Global Macro Fixed Income
The Janus Global Macro Fixed Income team is led by experienced investment professionals focused on managing strategies with absolute return objectives. Our team's expertise in unconstrained, macro style investing offers investors an exceptional approach to navigating today's markets. We serve investors around the world by employing a multi-faceted global macro investment approach that gives us flexibility in managing portfolios and allows us to capture what we consider to be among the best investment ideas for our clients.

As of 12/31/16