Contributing to rising prices is the general uptick in commodities pricing and the recent stabilization of the energy sector. The energy sector's deflationary impact on the economy for the last two years is coming to an end as the price of crude oil comes off a decade-plus low. However, this is not just a temporary commodity shock, says Chief Investment Strategist Myron Scholes, Ph.D. This is more pervasive; asset classes across the market are signaling that inflation is here and on the rise.
A key reason for this is the return of wage growth throughout the U.S. economy, says Fundamental Fixed Income Portfolio Manager Chris Diaz, CFA. Today's low unemployment rate infers a tight labor market, especially for skilled workers. As a result, companies are paying higher wages to obtain the skills they need, yet productivity has generally been weak. October's 2.8% year-over-year increase in average hourly earnings was the largest increase since 2009. Should the trend persist, wages will continue to contribute to the inflation story throughout 2017 and perhaps the years ahead.

Also supporting inflation expectations is the prospect of U.S. fiscal stimulus. Global Head of Fundamental Fixed Income Risk Management Mayur Saigal notes that while inflation expectations began changing after June's Brexit vote, they have been significantly amplified in the wake of the 2016 U.S. presidential election. Infrastructure spending, tax cuts and deregulation – all of which would help stimulate the economy – now look more likely with Republicans in control of the White House and both houses of Congress.
Global Head of Asset Allocation Ashwin Alankar, Ph.D., agrees, noting that while uncertainty remains over the specific policy agenda, markets indicate a Trump presidency will be inflationary. That assumption weighed on U.S. Treasurys following the election as yields climbed. Mr. Saigal says Treasury yields could face even more upside if economic growth and inflation continue to push up yields in 2017.
Additionally, we are seeing inflationary forces, despite a stronger dollar, says Dr. Alankar, and the options markets signal continued U.S. dollar strength. Rather than importing inflation, the fear of future expenses will motivate current spending, leaving the U.S. consumer as the driver of upward price pressures. An increase in the velocity of the massive U.S. money supply will also translate to inflation. The global economy could benefit as well, says Dr. Alankar, as other countries import inflation through a stronger dollar.
Wages – a key source of inflation in service-based economies – averaged more than 2.5% year over year in 2016. That upward pressure, along with post-election stimulus expectations, caused the TIPS market to raise its inflation expectations.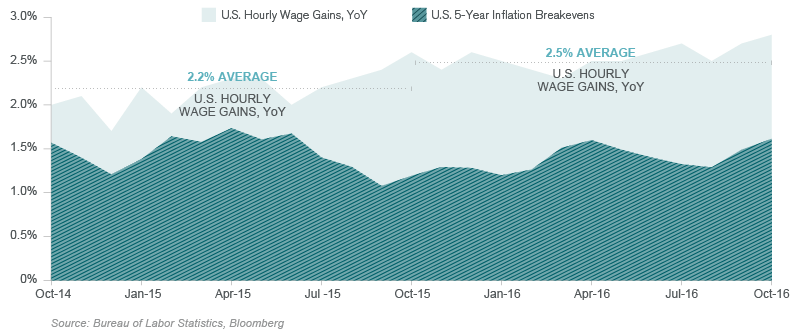 Another potential impetus for global inflation is China. Low wages and excess capacity have contributed to Beijing becoming a source of disinflationary pressures and one of the primary reasons that the goods component of inflation has remained depressed. However, as the country works to stabilize its old industrial economy and transition to a consumption-led model, deflationary forces emanating from China may be abating. After 54 months of downward price pressure, China's Producer Price Index (PPI) turned positive in September, and increased 1.2% in October.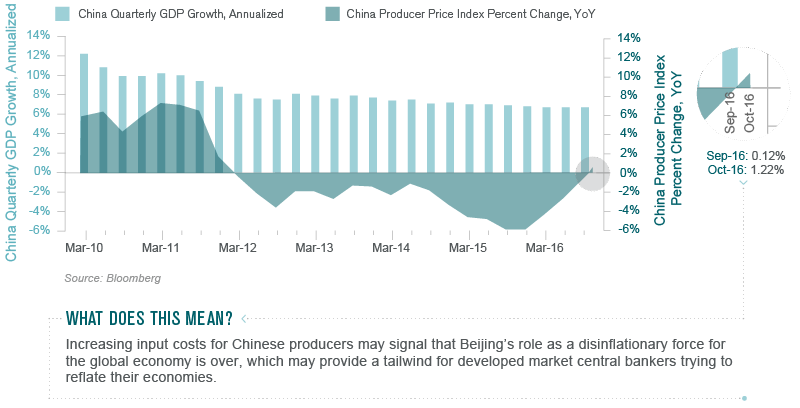 Equity Research Analyst Garth Yettick, CFA, notes that companies, particularly within technology manufacturing, are clearly experiencing wage inflation and are actively seeking cheaper labor both domestically and abroad in countries like Vietnam. Mr. Diaz notes that an increase in production input costs may not translate through to consumer prices, but the uptick in PPI could be a sign that China may no longer be relied on to export deflation around the world. Portfolio Manager Ryan Myerberg, however, cautions that China is not out of the woods yet. Dependent on postelection trade terms from the U.S., and potential policy responses from Beijing, China could still deliver a shock to global confidence and act as a tail-risk event from a deflationary standpoint.
Inflation will be present in the UK, but due to idiosyncratic events, rather than economics, says Mr. Myerberg. Brexit concerns caused a massive depreciation in sterling, which has fallen roughly 16% against the U.S. dollar since June's vote. A devaluation of that magnitude should bring a pop in inflation next year, as the pass-through effect from the currency typically takes 6 to 18 months.

In Europe, the story is a bit more muddied. Any inflation boost from the U.S. and China could easily be offset by headwinds, including the negative effects of Brexit and the general political uncertainties plaguing the region, says Mr. Myerberg. While the European Central Bank (ECB) has recently extended its quantitative easing program, scheduled cutbacks or a move to stop its asset purchase program at the end of 2017 could also act as a brake on inflationary pressures.
In the southern periphery of Europe, high unemployment rates present additional challenges for upward price pressure, even in economies with improved growth outlooks, such as Spain. Additionally, if U.S. trade policies turn toward tariffs and protectionism, the chance of inflation being exported will be significantly reduced.
With these risks in mind, Mr. Myerberg anticipates headline inflation in Europe to be within the ECB's expectations of 1% to 1.5%, with core measures staying stubbornly low, and risks tilted to the downside. One possible catalyst for an upturn in inflation, in Mr. Myerberg's view, would be a loosening of the fiscal constraint in the region and a corresponding increase in government spending.
In the U.S., our investment professionals believe the Federal Reserve (Fed) will embrace inflation in order to normalize rates. Fiscal stimulus would help extend today's aging business cycle and reduce fears of a recession, says Mr. Saigal. The Fed, in turn, would finally have an opportunity to raise its benchmark rate. Dr. Alankar says the options market already is signaling that the Fed must raise rates to replenish its toolkit. If fiscal policy spurs growth – effectively taking the baton from monetary policy – the Fed could hike rates faster than most market participants expect.

Janus' proprietary asset allocation model was designed to provide insight into which asset classes and sectors are best positioned to weather environments such as this. From the middle of 2016, the model began pointing to real assets as the most attractive investment opportunity. Inflationary concerns are likely the reason our model views much of the commodities complex as attractive. The one exception is energy. This may be the result of investors' lack of conviction that foreign producers will be able to maintain the coordination necessary to stem supply.
The model has identified heightened interest rate risk and suggests caution is warranted in holding duration, while inflation-protected bonds look appealing. The Fundamental Fixed Income Team agrees that actively managing duration will be crucial as new U.S. policies become clear and stresses the importance of being nimble enough to adjust yield curve positioning.
There is no indication of a serious downside risk to equities, says Dr. Alankar, suggesting that growth will remain positive. The model is not forecasting stagflation. Even if the real economy grows slowly, notes Dr. Scholes, you can still have mild inflation. This is not '70s-style inflation, agrees Mr. Saigal, but more of a normalization of deflationary forces that were in place until late 2016.
INVESTORS SHOULD BE MINDFUL of the inflationary pressures building in the U.S. economy.
U.S. INFLATIONARY FORCES COULD SPREAD upward price pressures abroad.
EXPOSURE TO REAL ASSETS, including commodities and TIPS, should prove beneficial in an inflationary environment.
BE NIMBLE AND ADJUST DURATION EXPOSURE AND YIELD CURVE POSITIONING as U.S. policies become clear.
ACTIVE MANAGERS MAINTAIN THE ABILITY TO ADJUST PORTFOLIOS as rate and inflation expectations arise.