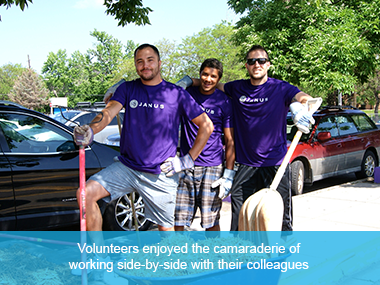 One of the things that makes Janus such a special place to work is our strong culture of giving back to the community. To kick off the summer, 137 Janus employees and family members gathered for a major cleanup at North High School in Denver, Colorado, for the first of two Janus Employee Volunteer Days being held this year. With shovels, paintbrushes, buckets and brooms, the Janus crew got right to work.
There was something for everyone to do: lockers were scrubbed, furniture was moved, classrooms and locker rooms were cleaned, walls were painted, and trees and shrubs were mulched. The work was hard but the spirit and drive to get it done never faltered. The projects provided not only a restored learning environment for the hundreds of students who attend North, but they also made a significant impact from a resource and a budget standpoint. The work Janus volunteers accomplished would normally take the North staff an entire month to complete. Our efforts will help the staff focus on other needs this summer that might otherwise have been delayed or overlooked.
Janus Employee Volunteer Days reinforce our belief that investing is a two way street – and North High School was a worthy recipient of our efforts. North serves 874 students in the Denver Public Schools system, 84% of which qualify for free or reduced lunch, a major indicator of a high poverty population. By putting in a day of cleaning up the school, Janus volunteers hope to show the families whose children attend the school that they are surrounded by a community that cares.
When employees were asked what they liked about Janus Employee Volunteer Day, Drew Kubosh said, "This is a great opportunity to contribute to the community with my family. My children experienced firsthand how volunteering makes a difference and how good it feels to help others."
With a combined total of more than 400 hours worked, Janus employees and their family members felt a sense of accomplishment, knowing they made a positive impact on the lives of young people in Denver. The group is already looking forward to this fall's Employee Volunteer Day at a local Boys & Girls Club.
To find a volunteer opportunity in your community, please visit the Hands On Network, a national organization that helps people take action by volunteering locally.