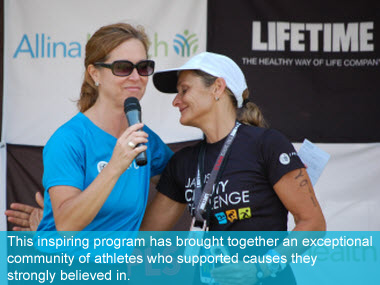 Here at Janus, we are passionate about investing in good causes. Giving back to the community has been a part of the Janus culture for many years. The Janus Foundation, the firm's charitable giving arm, was formed in 1994 with a commitment to help serve the communities where our employees, clients and shareholders live and work.

We also wanted to encourage others to help nonprofits and began developing ways to extend our charitable reach. In 2001, we created The Janus Charity Challenge (JCC), a unique national fundraising program that was part of Janus' sponsorship of the Ironman Triathlons and later the Life Time Triathlon Series. This program helped bring together an exceptional community of athletes who were committed to making their triathlon about more than just crossing the finish line.

"The Janus Charity Challenge has been great in so many ways, taking a selfish sport and turning it into a sport with meaning," said Diana Schnell, an 11-time fundraiser who raised more than $1.6 million as a triathlete. A portion of the money she raised for Equestrian Connection, whose vision is to improve the quality of life of those with disabilities and mental challenges through equine therapy, helped a family with disabled triplets who are financially challenged due to the children's special needs as well as their dad's cancer.

The Janus Charity Challenge was conceived to encourage and help athletes raise money for the charity of their choice as part of their triathlon experience. Janus provided fundraising tools, including online donation capabilities and personalized web sites, to support the athletes who participated. The Janus Foundation also made financial contributions to the charities of the top fundraisers at each race. Starting in 2001 with 57 athletes participating in Ironman triathlons in three cities, the program raised more than $500,000 in its first year. Through 70 races in more than a dozen cities, the JCC raised over $55 million, with 2,727 athletes supporting more than 2,000 beneficiaries over the course of the program.

Few other "race-to-raise" programs offered the same flexibility of choice, and none supported and rewarded triathletes as strongly as Janus. "I am forever indebted to the impact that the Janus Charity Challenge made on my life. By working with the great folks at Janus and experiencing the incredible support and generosity of donors, I was shown a side of people that I hadn't experienced before," said Carole Demetre, seven-time fundraiser who also raised more than $1.6 million for her charities.

Athlete Daniel Francis supported Camp Anokijig, one of Wisconsin's oldest youth and family camps. The camp used 100% of the donated money for scholarships, which allowed 100 kids to attend camp and have an experience to remember for a lifetime. According to Daniel, "The scholarships went to inner city kids who would NEVER have had this life-altering experience. The money was used to improve the lives of many people, and I pass on their sincerest gratitude." Daniel is a 10-time fundraising triathlete who raised more than $4.8 million through the JCC.

After thirteen extraordinary years, the Janus Charity Challenge has come to an end. Janus would like to honor those who, with their dedication and passion, made significant impacts through their fundraising efforts – each raising at least $1 million for their favorite causes. As is tradition with the Janus Charity Challenge, Janus will make a special donation to these athletes' charity of choice as a way to celebrate their amazing accomplishments.

We would like to thank each of our JCC athletes who have helped make a world of difference. While this is the end of an era, it is cause for celebration as well. What started as a grassroots fundraising program grew into an amazing community movement. For hundreds of Janus Charity Challenge triathletes, the race wasn't measured by their finish time. Rather, it was measured by the number of lives they touched.

As we look to the future, Janus remains committed to investing in communities and helping make lives better for our clients and investors, and will be uncovering other ways to capture the spirit of the Janus Charity Challenge. We invite you to take a look at other stories on this site to learn about Janus' many community efforts.
To see a timeline of key events in the history of the Janus Charity Challenge, click here