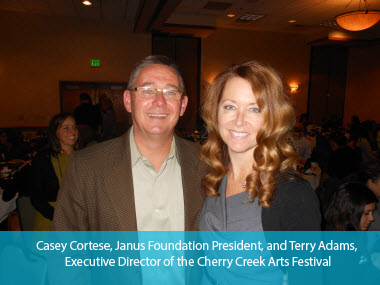 As a sponsor of the Cherry Creek Arts Festival in Denver, one of the nation's most renowned visual arts festivals, Janus has been a devoted supporter of the arts for almost 20 years. In 2001, we decided we wanted to do more than simply be a sponsor. With a vision of increasing the exposure of school-aged children to the wonders of art, we collaborated with the Festival's education department to create the Janus Student Art Buying Program.

Today, the Janus Student Art Buying Program and other initiatives born from this vision are credited with giving thousands of students from across Colorado the opportunity to develop a deeper understanding and greater appreciation for art. The Program has become an experience that students anticipate and teachers revere, as demonstrated by the Colorado Art Education Association's (CAEA's) decision to award Janus with the 2013 Distinguished Service Outside the Profession Award.

"Presented annually at the CAEA's conference in November, the award recognizes a non-art-related Colorado business or organization making a substantial effort to advance and improve the quality of visual arts education. "Recipients are organizations that have nothing to gain from their support of the arts except the fulfillment of knowing they are connecting people with art through education," explains Kim Williamsof the CAEA. "They are furthering our cause merely out of the goodness of their hearts."

Williams describes Janus' approach to art education as groundbreaking. "I've never known any organization to do what Janus is doing to bring art into public schools."

The Student Art Buying Program truly is a one-of-a-kind experiential art education program. Through in-class curriculum, students are able to explore art as a personal preference, a reflection of culture and also as a business. They then apply what they've learned in the classroom during a hands-on art-buying opportunity at the Cherry Creek Arts Festival where they are tasked with reviewing, selecting, negotiating and purchasing art suited to their school and their student body with money donated by Janus.

"I've participated in the Janus Student Art Buying Program with students six different times," says Thad McCauley, teacher/art educator at the Aurora Frontier P-8 School and a CAEA member. "Any art education supporter can instantly see how truly awesome this program is for all involved."

Over the past 12 years Janus has invested more than $110,000 in art for the Program and for the Cherry Creek Arts Festival's Mobile Art Gallery, a traveling exhibit that brings art to schools, libraries, community centers and other public venues throughout Colorado. More importantly, Janus has brought a meaningful art education experience to tens of thousands of children who, even without school budget cuts, may not have had the opportunity to experience art in this way.

"Janus is helping schools and teachers keep the arts alive in young minds," says Terry Adams, Executive Director of the Cherry Creek Arts Festival. He explained that although teachers are doing what they can to inspire and educate to the degree that they'd like to, they often are challenged by their limited resources.

"The experience varies from school to school but, in general, today's art educators must continually look for creative ways to keep the arts funded and be even more innovative in how they teach," says Adams. "The Student Art Buying Program is one way they are able to do that, and the Cherry Creek Arts Festival is pleased to have been able to help Janus facilitate this meaningful program over the past 12 years. The CAEA Award is well deserved."

Casey Cortese, President of the Janus Foundation says "As long-time partners of the Cherry Creek Arts Festival, we're honored to be recognized by art educators in the state of Colorado. The Janus Student Art Buying Program and Mobile Art Gallery are causes that our firm has been passionate about for more than a decade."

Applications for this year's program will be available starting January 15, 2014, with a deadline of February 28, 2014. Applications can be completed by art teachers, school administrators, parents or volunteers affiliated with any Colorado school.

Visit https://www.cherryarts.org/education/Student-Art/Janus-Student-Art-Buying for more information.