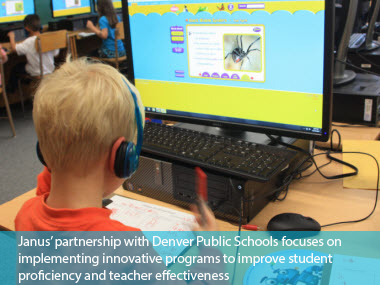 The Janus Foundation has had a partnership with Denver Public Schools (DPS) since the launch of our first multi-year grant with the school district in 2007. The first collaboration centered around teacher effectiveness work, which among other things led to the creation of the Denver Teacher Residency Program, an urban teacher recruitment and retention program which has been very successful and is still in place today.

The Janus Foundation, located in Denver at Janus' corporate world headquarters, further strengthened its relationship with DPS in the summer of 2012 with a three-year, multi-million dollar grant to develop a district-wide blended learning program, designed to help teachers personalize the learning needs of each student and work towards closing the achievement gap.

The blended learning model of teaching combines teacher-led instruction with a digital online curriculum, allowing personalization and control of the pace of students' learning. Through the use of smaller group instruction and frequent evaluation of student data, teachers are able to differentiate learning for their students and provide more individualized instruction. The overall goal of blended learning is to increase both student achievement and engagement.

During the blended learning program's first year, the partnership between DPS and Janus made substantial progress toward meeting the goals for the Janus Blended Learning Grant program, including:
The creation of a replicable and sustainable model for introducing blended learning into DPS classrooms;

Improving learning outcomes for participating students through individualized learning opportunities;

Freeing up teachers to work one-on-one with students at the point of need or opportunity;

And increasing the demand within DPS for education innovation.
The Janus Foundation and its DPS partners were eager to share the results of the Janus Blended Learning Grant's first year implementation. In November 2013, they held a reception with Colorado's education and business communities. Casey Cortese, president of the Janus Foundation, outlined key results from the grant's first year, while Janus Capital Group CEO Dick Weil and DPS Superintendent Tom Boasberg shared thoughts on the two organizations' unique partnership and the future of immersive philanthropy efforts such as the Blended Learning Grant.

The first year of blended learning integration produced a measurable impact on student outcomes in the two Janus Blended Learning Lab Site schools – West Generation Academy (WGA) and Grant Beacon Middle School. The Janus Lab Sites are selected based on demonstrated leadership and innovation in their approach to driving the future of education. These schools actively implemented blended learning practices, and allow the district to learn from them based on their results and iterative processes of improvement. At WGA, students grew, on average, two grade levels in math and nearly one grade level in literacy, according to STAR Reading & Math formative assessments. Additionally, West Generation Academy cut in half the percentage of students who started the year more than five years behind in reading fluency and comprehension.

Results from Grant Beacon Middle School showed promising improvements, too. The school saw the percent of students scoring proficient or advanced in reading and math increase during the 2012-13 school year, and they also saw a decrease in unsatisfactory scores for reading and math in the program's first year as measured by Transitional Colorado Assessment Program (TCAP) Status. Students continuously enrolled at Grant Beacon Middle School during the school year with at least 90 percent attendance earned a reading TCAP Median Growth Percentile (MGP) of 57 and a math MGP of 72. The results exceeded the target of 50 MGP and the students' 2012 TCAP Median Growth Percentiles.

While the first year brought challenges, which are to be expected when implementing a full-scale change management process, the Janus Foundation and DPS are committed to acting upon the knowledge gained to improve the program in the coming years. For example, an enhanced needs assessment process has been implemented and the blended learning team completed a deeper evaluation of school and teacher readiness prior to the 2013-14 school year.

Looking forward, the Janus Blended Learning Grant is primed to see continued success in the remaining grant years. Four new schools – High Tech Early College, Kunsmiller Creative Arts Academy, Sabin World School and University Park – have joined the program as additional Janus Lab Sites for the 2013-14 school year, and the Janus Foundation and its DPS partners remain committed to fulfilling the district's vision that every child succeeds. Read Innovating for Excellence, the white paper on Year 1 results.

For more information on how blended learning is making an impact on schools, visit the following sites:

Blended Learning in Denver Public Schools
http://blendedlearning.dpsk12.org/

This is Blended Learning

http://www.blendedlearningnow.com/

Blended Learning Resources – Donnell-Kay Foundation

http://www.dkfoundation.org/our-work/blended-learning-resources

Blend My Learning [innovate, transform, share]

http://www.blendmylearning.com/blog/